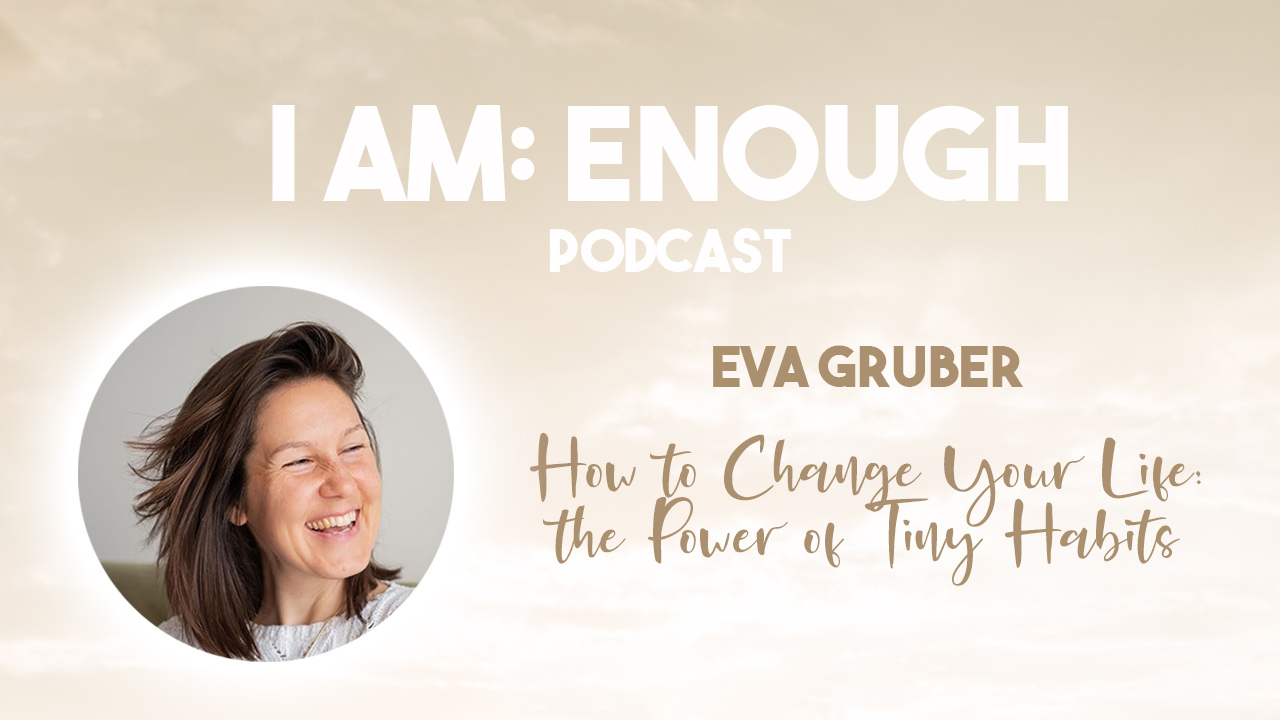 "If you create a habit you think you should do, it is set to fail."
It's that simple!?
But where to start?

Alisa Eresina – the inspiring creator of the I Am: Enough podcast – asked me 101 curious questions, how I shift behavioral patterns from distraction and stress towards focus, wellbeing, and joy. Because I Am: Enough is an invitation to break the pattern of "I am not worthy of love, happiness, and success". Together with inspiring female leaders, Alisa dives deep into the topics of empowerment, spirituality, and leadership.
This time, I am her featured guest, unwrapping the topic of
In our conversation we dive deep into personal behavioral change, and how to reduce distractions with "healthy" habits. We unmask the flaws which set behavior change to fail – leaving us frustrated. We explore the Tiny Habits® method, enabling a once tiny behavior to grow big, leading towards a healthier and happier life.
Key take-aways from our conversation
Why only three momentums set the stage for behavioral change – enabling you to sustainably change your habits, routines, and lifestyle. Still, not all of them are a leverage for change on demand.
How the secret sauce of behavior change tastes – and how the intensity of each ingredient affects lasting "healthy" habits and personal change.
Why going on a lifelong date with your emotions is needed to master behavioral change.
Why the Tiny Habits® method acts as an easy door opener for fast, safe, and wanted change – surprising you with tons of positive ripple effects.
How to unmask the flaw that behavioral change is all about motivation and willpower.
Why your golden behavior counts for success.
Why celebration is a game changer in habit forming to create a healthier and happier life.
What you can learn from your washing machine's manual to stop judging yourself.
How finding your intuition and connection to your body becomes a tipping point for behavioral change – enabling your mind to follow.
Why the skill of making conscious breaks impacts in order to "go live".
Why you should meet and nourish your inner child for your wellbeing.
Quotes to remember
"We really need to know first what we want to change and figure out our aspiration."

"People need to learn that it [a challenge in behavior change] is not a personal flaw, and stop judging themselves along the way of "failure"."

"It made me learn, but not feel."

"I learned how intense emotions due to experiences can embody in yourself."

"Find your intuition and connection with your body first, and everything else will follow."
Dive deeper 
HABITS – SET YOUR LEVERAGE.Tiny Habits® are not that tiny. They are a true leverage to support your desired behavior change. Since 40% of your daily behavior is based on your habits, you should get to know them. Learn to use or change them, as your habits should support and not hinder you. Start your coaching. Learn more here.
Credentials
My work as a Habit Coach is based on internationally recognized research and methods. Learn more about my bio, selected methods and role models here.
If this podcast episode…
…sparked a few Aha Moments or ideas, I would be happy about your support.
Each support gives me input, creates personal relationships, and inspires.
Thank you!
Eva Gruber – Habit Coach
Enjoy this episode.