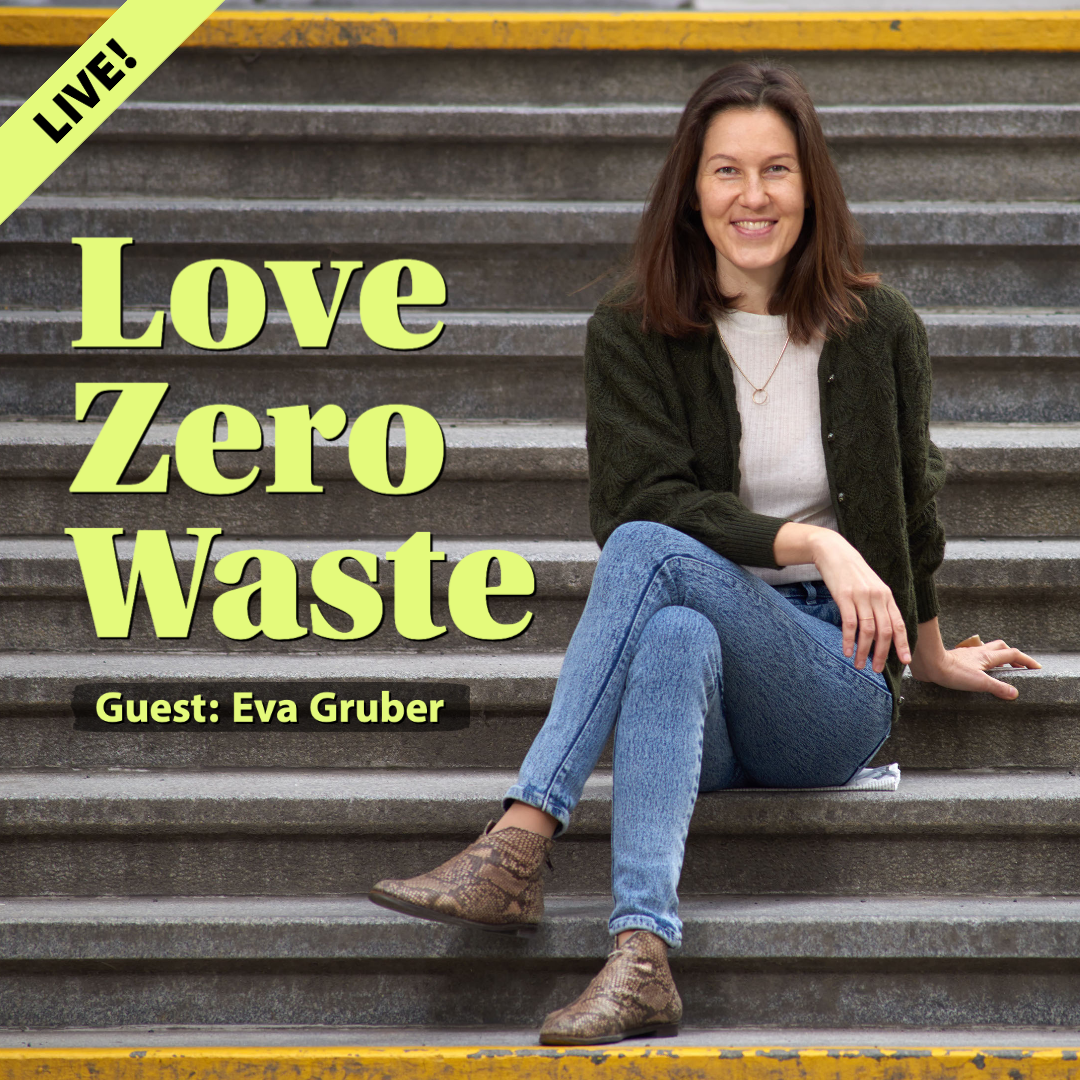 "You are in the driver's seat to shift lifestyles. You set the scope to start with ease."
It's that simple!?
But where to start?
Evelina Lundqvist and Malin Leth – the inspiring creators of the LoveZeroWaste podcast – asked me 101 curious questions, how you can engage healthy habits and joy into your zero waste lifestyle, instead of hunting down goods. Because LoveZeroWaste is an invitation to explore how businesses, cities and even countries — how you and I — can contribute to creating a zero waste society. Together with change agents, entrepreneurs, scientists, activists and policymakers from across the planet, Evelina and Malin dive deep into their insights, the latest research and revolutionary ideas on how to create a zero waste society.
This time, I am their featured guest, unwrapping the topic of
>> Going Zero Waste – How habits & joy ease your start <<
Listen to the episode on Spotify, Apple Podcast, Soundcloud or wherever you listen to podcasts.
In our conversation we dive deep into Zero Waste as a sustainable lifestyle, and personal behavioral change leveraged by Tidying, Decluttering and Healthy Habits. We unmask the flaws which set a change in lifestyles to fail – leaving us frustrated. We explore the KonMari Method™ and the Tiny Habits® Method, enabling an easy start of your lifestyle shift, leading towards a healthier and happier life.
Key take-aways from our conversation
What Makers and Scanner Personalities are, and how Eva as a Habit Coach can guide them to change to a more sustainable lifestyle.
What the KonMari Method™ is all about, and why Eva uses the essence of old Japanese traditions for tidying and decluttering your life, and what to expect from Eva as your tidying consultant.
How a transition into a Zero Waste lifestyle can look and feel like, and why it needs time to experience ease and joy along this journey.
What tidying and decluttering of e.g. 70% of your belongings does to your brain, your awareness, and behavior.
How to overcome the urge to fill up empty shelves after tidying and decluttering, and instead use created space, energy, and time for your aspirations.
How a regular zero waste day looks like, and why its ease dwarfs the challenges.
Why healthy habits are a game changer for building a sustainable lifestyle, and what the Tiny Habits® Method is all about.
Examples for Tiny Habits to start your zero waste lifestyle, avoiding traps for failure.
How minimalism and zero waste can benefit each other.
Why you shouldn't over-engineer your daily life with trendy lifestyles, and instead support system change within your society.
Eva's Top-3 Hacks to shift towards a more zero waste lifestyle, and how habits and tidying play into them.­­­­­
 Quotes to remember
"Once you know what you own, you define your needs and wants differently. You become more conscious about what to shop, and the quality of products and services consumed, as you have the ones you really value already."

"The space, time, and energy gained from tidying and letting go intentionally, my clients dedicate very intentionally to their true aspirations."

"KonMari is only one leverage to create your space."

"Healthy habits can be created on intention, but you need the right methods to do so."

"You can become a change maker in your own ecosystem by living up to it, talking about it, being a role model on a micro-level."
Dive deeper 
HABITS – SET YOUR LEVERAGE.Tiny Habits® are not that tiny. They are a true leverage to support your desired behavior change. Since 40% of your daily behavior is based on your habits, you should get to know them. Learn to use or change them, as your habits should support and not hinder you. Start your coaching. Learn more here.
Credentials
My work as a Habit Coach is based on internationally recognized research and methods. Learn more about my bio, selected methods and role models here.
If this podcast episode…
…sparked a few Aha Moments or ideas, I would be happy about your support.
Each support gives me input, creates personal relationships, and inspires.
Thank you!
Eva Gruber – Habit Coach
Enjoy this episode.
>> Going Zero Waste – How habits & joy ease your start <<
Listen to the episode on Spotify, Apple Podcast, Soundcloud or wherever you listen to podcasts.